Job Overview
Edit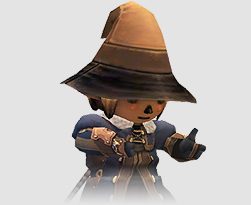 Through devastating magic spells, Black Mages (BLM) bring tremendous firepower to the battlefield. A Black Mage's job is simply to cast offensive spells and destroy enemies. Although they are known for their Elemental Magic, they also possess a few highly-valued utilitarian spells. In battle, Black Mages are often called upon to participate in skillchains by finishing each chain off with a magic burst, adding even more destructive power to a party's repertoire. Players starting the game as a Black Mage receive an Onion Staff and a Scroll of Stone.
Spell List
Edit
See Black Mage Spell List for where to find spells as well as other information.
Artifact Equipment
Edit
Black Mage Guides
Edit
Ad blocker interference detected!
Wikia is a free-to-use site that makes money from advertising. We have a modified experience for viewers using ad blockers

Wikia is not accessible if you've made further modifications. Remove the custom ad blocker rule(s) and the page will load as expected.