Job Overview
Edit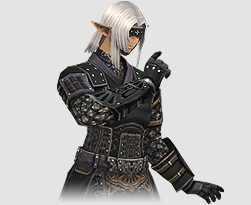 Strict training in the forbidden arts of the Far East have transformed the Ninja (NIN) into cold, hard killing machines. Capable of evading most attacks thrown at them by deceiving their opponents with their mastery of shadows (Utsusemi) while dealing large amounts of damage with shuriken and spells, making them invaluable on higher level foes. Available after completing the quest Ayame and Kaede.
Ninjutsu List
Edit
Combat Skill Ratings

Edit




Magic Skill Ratings

Edit

|  Skill | Skill Ranking | Cap at Level 1 | Cap at Level 37 | Cap at Level 75 |
| --- | --- | --- | --- | --- |
| Ninjutsu | A- | 6 | 114 | 269 |
See Ninja Skill Caps for a by-level breakdown of Weapon Skill limits.


Artifact Equipment
Edit
Ninja Guides
Edit
Ad blocker interference detected!
Wikia is a free-to-use site that makes money from advertising. We have a modified experience for viewers using ad blockers

Wikia is not accessible if you've made further modifications. Remove the custom ad blocker rule(s) and the page will load as expected.