Job Overview
Edit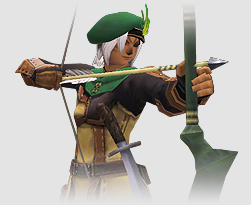 With unparalleled tracking abilities and skill with the bow and arrow, rangers (RNG) are experts in the field of hunting. Available after completing the quest The Fanged One.
Rangers are the best ranged damage dealers in the game. They are proficient with bows, crossbows, and guns. They are also the most adept job at using Wide Scan.
Combat Skill Ratings
Edit
See Ranger Skill Caps for a by-level breakdown of Weapon Skill limits.


Artifact Equipment
Edit
Ranger Guides
Edit
Ad blocker interference detected!
Wikia is a free-to-use site that makes money from advertising. We have a modified experience for viewers using ad blockers

Wikia is not accessible if you've made further modifications. Remove the custom ad blocker rule(s) and the page will load as expected.